About us
Samariterhemmet Diakoni 140 years – Compassion since 1882
Samariterhemmet Diakoni (The house of the Good Samaritan) is an organizationally and economically independent foundation. We engage in diaconal work both independently and in close collaboration with actors within the Swedish Church, as well as with other denominations, organizations, and authorities. Our focus is to contribute to a more compassionate society by caring for individuals, particularly those in vulnerable life situations.
Our History
Since 1882, Samariterhemmet has been contributing to a more compassionate society by caring for individuals, especially those in vulnerable life situations. But how did it all start and what has happened over the decades? Join us on Samariterhemmet's journey from then till now.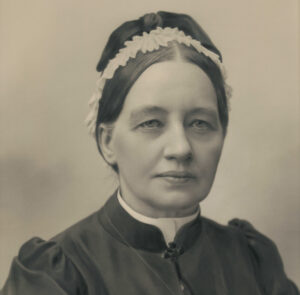 Ebba Boström (1844 – 1902)
Ebba Boström, born on September 5, 1844, in Uppsala, founded Samariterhemmet. Inspired by England, she began her work in central Uppsala in 1882.
At Bäverns gränd 13, she provided a home, education, and alternative income opportunities for prostitutes. The activities expanded to include a children's home (1886) and a home for individuals with mental disabilities.
In 1893, Ebba Boström established Samariterhemmet´s hospital with the aim of providing healthcare to the poor in our society. The hospital also included the training of deaconesses and nurses.
In 1899, Ebba Boström handed over the entire operation to the Samariterhemmet foundation.
Read more about our history hear
What does diaconia mean?
The word "diaconia" comes from Greek and means service/to serve. It is based on Jesus' teachings about loving one's neighbor. The role of serving has always been central to the church and parish life. There has always been an active effort to seek out those who are socially marginalized and most vulnerable in society, and Samariterhemmet Diakoni is no exception.
Diaconia is not just about providing temporary help. Everyone who needs assistance should receive it, and everyone can contribute to helping others. The goal is to enable people to feel valued, to recognize their own worth, and to harness their potential. Diaconia is both working with people and working for people at the same time. However, it also involves reformative work, aiming to change fundamental societal systems to counteract social vulnerability.
Our Activities
Healthcare and elderly care: Ebbagården – Dementia care facility, Utsikten – Daily activities for younger individuals with dementia-related issues, home care.
Social activities: Senior center, Kungsängsgården – Independent living for the elderly, Counseling services for the Elderly in Uppsala and Österlen, Ebbamottagningen – A facility primarily dedicated to helping women who have experienced sexual exploitation. The facility specializes in assisting individuals who engage in self-harm through sex, have received compensation for sexual services, or are victims of human trafficking. KAST-mottagningen is available for individuals who buy sex or have compulsive sexual habits. Samariterhemmets vänner and Samariterhemmets syförening.
Education: We provide training in healthcare and social work, both independently and in collaboration with other organizations.
Church: We have an active worship life in Samariterhemmet's church. Morning prayers during weekdays, Sunday services, and celebrations of all church holidays throughout the year.
Hotel and conference facilities: Located in central Uppsala, yet in a peaceful and pleasant setting, we offer cozy accommodation for visitors and conference venues.
Property: We own and manage over 30,000 square meters consisting primarily of residential buildings, healthcare facilities, and commercial spaces, which are rented externally or used for our own operations.